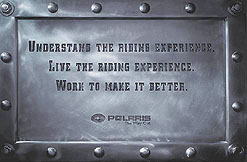 Fairway Golf Car is now a Proud Distributor of Polaris Vehicles.
At Polaris, making great products is not just a job...it's a way of life. The Polaris creed is etched in steel at the entrance of every distributor location. Polaris employees are not only building & designing top-quality machines, they are also enthusiastic riders. This gives our vehicles the competitive edge and make the riding experience better for our clients.
Fairway Golf Car's goal is to take your Polaris experience to the next level. We are trained to discuss all aspects of the Polaris line of vehicles...from the sale, customization, and operation....to the service, maintenance, and repair of your vehicle. We will outfit you with the Polaris vehicle that's ideal for the recreation or work output you desire.
Put Our 40+ Years of Excellence to work for YOU!